Four-room apartments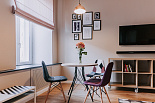 Area: 130 square meters. m
Capacity: up to 10 guests (6 at the main places + 4 at the additional places)
The apartments have a separate entrance from Nevsky Prospect. View of the Nevsky Prospect. Newly renovated and modern design, 3 bathrooms. 3 kitchenettes, 3 double beds + 3 sofas.
The apartment is equipped with all necessary appliances - a refrigerator, a microwave, a stove, a washing machine, a flat-screen TV, a seating area. A nice addition will be high-speed free Wi-Fi. Great offer for a large company, several families and people traveling on business!

Other rooms Nevsky Central