Contacts
11 Bolshaya Konushennaya in the city's central district.
View map
Nearest metro station: Nevskiy Prospekt
7 minute walk from Nevsky Prospekt Metro station.
Phone for reservations:
+ 7 (812) 703-38-60, fax +7 (812) 703-38-61
Hotel Art Hall phone:
7 (812) 314-13-49 (24-hour)
Description
The youngest hotel of the Nevsky Hotels Group, Art Hall is located in the famous Yards of Capella at 11 Bolshaya Konyushennaya Street. It takes no more than 10 minutes to get to the Neva Embankment, and the hotel is less than 700 meters from the world-famous Winter Palace and Palace Square. You can always find a restaurant, a cafe, or a bar to suit any taste right next to the hotel. "Nevsky Prospect" metro station is a 10-minute walk away.
Rooms and rates
The hotel has 23 comfortable rooms with one double or two twin beds. The concept of this hotel is different from other hotels of the Group: the rooms of Art Hall are designed in black and white, while large windows overlooking the classy Yards of Capella give you an unforgettable experience of St. Petersburg. All rooms have private bathrooms with showers, hairdryers, and toiletries. There is a TV, a telephone, a safe, air-conditioning, a closet, and a desk. There is a cooler with hot and cold drinking water on every floor.
Apartments Facilities
The hotel is located on the second, third, fourth, and fifth floors of a building without a lift. You can find the reception desk on the second floor. The Art Hall security service is ready to protect you 24/7. For the convenience of our guests, we provide free Wi-Fi access throughout the hotel.
Service
We are glad to offer our guests full variety of tourist services, including visa support documents, foreign passport registration, transfer to/from the airport or railway station. Our guests may also use the laundry services, rent a car with a driver or an interpreter, book plane- or train tickets. Our friendly and professional staff will be happy to help you at any time with choosing a restaurant, café, museum or giving advice on some activities and travel tips.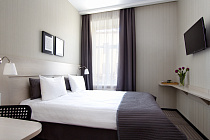 Our standard room with one double or two twin beds is equipped with everything you might need for a comfortable stay. All rooms are non-smoking and air-conditioned. There is a bathroom with a shower, a hairdryer, and free toiletries, as well as free Wi-Fi in every room. There is also a TV, a telephone, a safe, an air conditioner, a closet and a desk. Guests can request tea sets, dental care, shaving, and sewing kits, as well as slippers – all of them free of charge. We are happy to provide a baby cot for the smallest of our guests.
ABOUT
Latest booking has been made 21 minutes ago